Semi-metallic brake pads, super high temperature performance
Product Detail
Product Tags
Semi-metallic brake pads
Semi-metallic (or often referred to as just "metallic") brake pads contain between 30-70% metals, like copper, iron, steel or other composites and often a graphite lubricant and other durable filler material to complete manufacturing.
Santa brake offers semi-metallic brake pads for all kind of vehicles. The quality of the materials and workmanship is first class. The brake pads are precisely tailored to each car model to produce the best possible braking performance.
| | |
| --- | --- |
| Product Name | Semi-metallic brake pads for all kinds of vehicles |
| Other names | Metallic brake pads |
| Shipping Port | Qingdao |
| Packing Way | Color box packing with customers brand |
| Material | Semi-metallic |
| Delivery time | 60days for 1 to 2 containers |
| Weight | 20tons for each 20 feet container |
| Warrant | 1 year |
| Certification | Ts16949&Emark R90 |
Production process: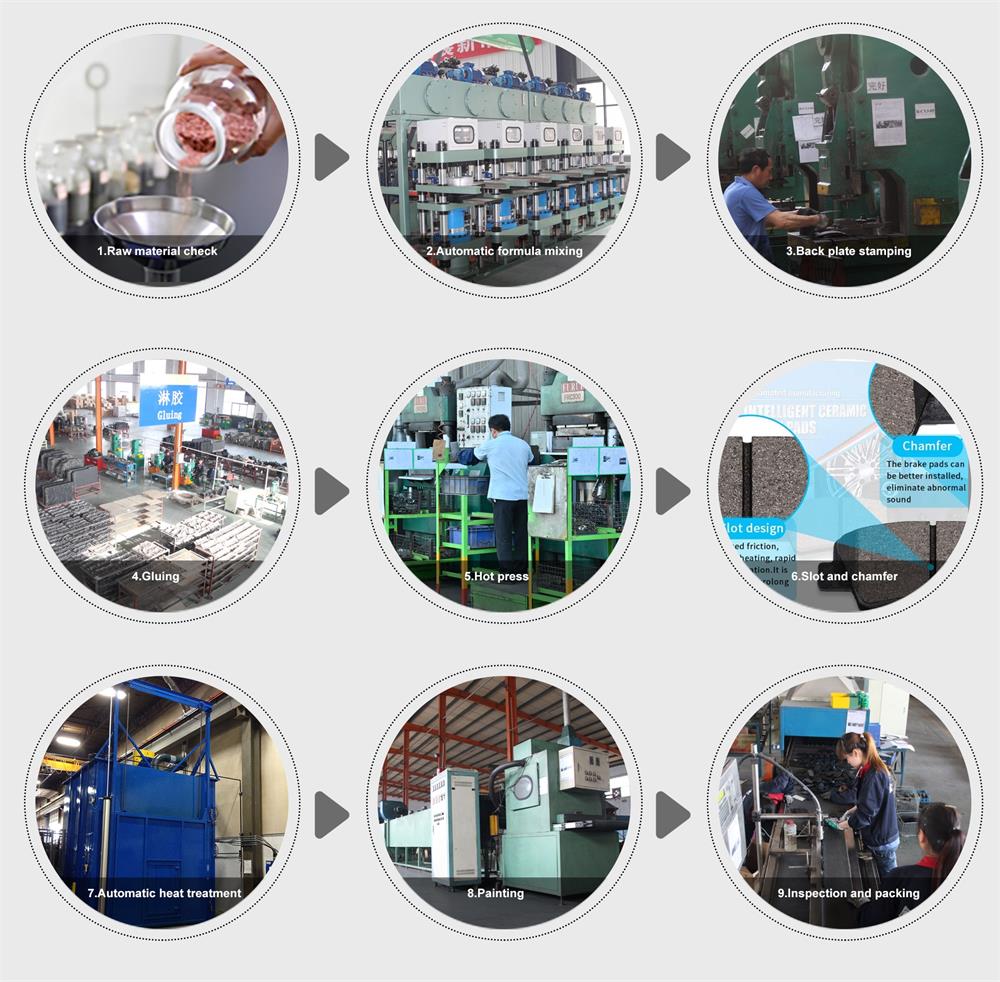 Quality control
Each piece will be inspected before leaving the factory
Packing: All kinds of packing are available.
After years of development, Santa brake has customers all around the world. To meet customer's demand, we set up sales representative in Germany, Dubai, Mexico, and South America. In order to have flexible tax arrangement, Santa bake also have offshore company in USA and Hongkong.
Relying on Chinese production base and RD centers, Santa brake is offering our customers good quality products and trustworthy services.
Our Advantage:
15 years brake parts production experience
Customers worldwide, full range. Comprehensive category of over 2500 references
Focusing on brake pads, quality oriented
Knowing about the brake systems, brake pads development advantage, quick development on new references.
Excellent cost control ability, relying on our expertise and reputation
Steady and short lead time plus perfect after sales service
Strong catalogue support
Professional and dedicated sales team for efficient communication
Willing to accommodate customers' special requirements
Keeping improving and standardizing our process
What are the differences between semi-metallic and ceramic brake pads?
The difference between ceramic and semi-metallic brake pads is simple – it all comes down to the materials that are used to produce each brake pad.
When choosing a ceramic or semi-metallic brake pad for a vehicle, there are certain applications in which ceramic and semi-metallic pads both offer different advantages.
For performance vehicles, track driving or when towing, most drivers prefer semi-metallic brakes, as they provide better braking over a wider range of temperatures and conditions. They are made of material that conducts heat well, thus making them more able to withstand higher temperatures upon braking, while helping the system cool simultaneously. Semi-metallic brake pads can be noisier than ceramic brake pads and their price point normally falls between that of organic and ceramic brake pads.
Ceramic brake pads, while quieter, are also able to handle extremely high temperatures with quick recovery, causing less damage to the rotors. As they wear, ceramic brake pads create a finer dust than semi-metallic brake pads, leaving less debris on the vehicle's wheels. Ceramic brake pads typically last longer than semi-metallic brake pads, and through their lifespan, provide better noise control and less wear-and-tear to rotors, without sacrificing braking performance. When deciding ceramic versus semi-metallic brake pads, bear in mind that not all vehicle makes and models are compatible with ceramic brake pads, so research is advised.
Understanding how brake pads function and how different brake pad materials are suited for different applications will help you make the right brake pad selection to fit your customer's unique vehicle and driving needs.
---
Previous:
Painted & Drilled & Slotted Brake disc
---